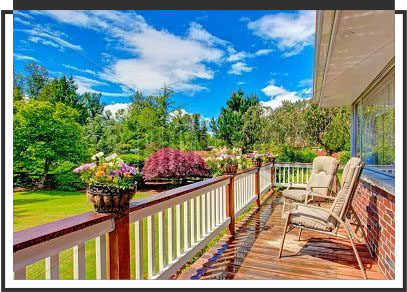 When the warmer weather comes around, many people celebrate by spending more time outdoors. This may be on a hiking trail in the woods, but grilling on the deck is just as common. If you don't already have one, you may be thinking of adding a deck. Before you hire a contractor, here are a few things you should keep in mind.
Height
Some homeowners prefer a balcony-type deck leading out from the second floor, while others prefer one at ground level. The option you choose will depend on the build of your home. For example, for a home built on a slope, ground level at the front-end may equal second-floor level on the back-end, allowing an elevated deck that still leads out directly from the kitchen.
Direction
What side of the compass will your deck face? If your deck faces south, you can count on a lot of sun. This is great during the colder months but will prompt the need for shade during the spring and winter. If you choose a north-facing deck, you won't get as much sun but will likely get a lot of wind.
Party Sizes
Do you entertain big parties or small gatherings? Your answer will help you to determine the best size when adding a deck. Decks built on ground level can always be extended later on. However, decks built in the air would require a lot more work to adjust.
Privacy
Ensuring privacy for your deck may require work that has nothing to do with the deck at all. For example, landscaping work may provide privacy in the form of trees or bushes. Latticework may also provide privacy, but you may lose the view in the process.
When you are ready to hire a contractor for adding a deck, be sure to share all of these considerations with the ones you have in mind. Try to get bids from at least three companies and remember to check customer reviews.