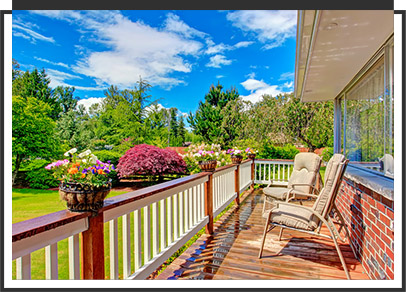 The world is filled with so many choices, and that is even the case when it comes to choosing one of several different materials to build the deck surrounding your home. As more people spend their free time basking in the yard with friends and family, it comes as no surprise that more decking options are available to homeowners. Whether you are building a new deck, improving an existing patio, or redoing your whole backyard, here are some modern decking ideas on composite materials to help you make the right choice in your deck building experience.
Long Lasting and Beautiful
Relatively new to the market, the composite decking materials are one of the fastest-growing supplies sold to homeowners for decking projects. Created from sawdust or wood fibers and recycled plastics, many consider these man-made deck boards to be eco-friendly and green. You can choose from many colors and wood grain patterns.
Save Money and Time
Not only does each board last longer than many other deck building materials, but the plastic is also stain and weather resistant. Costing much less than other woods or metals, it can withstand almost any winter colds or summer heats, and it will not rot, warp, or splinter. Maintenance on composite decking is minimal. Add you need to do is spray it off with a pressure hose or brush it with a cleaning solution each year to remove dirt and dust. Think of the time and money you can save when you do not have to sand and re-stain the deck each year.
If you want to go green, love the idea of low maintenance products, and need a deck that will last for many years, choose composite materials when deck building. Contact a contractor to get started today. Having a deck to relax on with friends and family will make you wonder why you did not make the decision earlier.